The living room is a unique room – it must connect the functionality of a living room with the convenience of relaxation spaces. A couch is a practical and relaxing piece of furniture. Upholstered sofa or corner sofa – we suggest how to choose the perfect equipment to the living room.
What to pay attention to when choosing upholstered furniture for the living room?
The sofa is usually the largest piece of furniture in the living room - no wonder it catches the eye. This is what you pay attention to, right after entering the room. Therefore, it should fit into the atmosphere of the interior, delight with production or, for example, interesting colors. Yeah, in a variant upholstered, provides comfort and adds a cozy, home-like atmosphere to the room warm. Such a sofa can also be a decorative element. The right choice shade, material or texture can significantly affect the character arrangement.
Aesthetic considerations are very important, but When choosing upholstered furniture for your living room, you should also keep these issues in mind practical. It is necessary to define your own needs and limitations, imposed by the room itself. When planning to buy a sofa, pay attention to:
The right fit – incl. in terms of the size of the sofa. Too big the piece of furniture will take up valuable space and make the room appear tight. In turn, not all household members can fit on a small sofa, but the equipment will lose its recreational character. As far as accurate measuring the sofa seems obvious, hardly anyone pays attention to its height. This is important because a couch with high headrests, and especially the one placed under the window will take up a lot of light.
Stylistic consistency – decorative stitching and trimmings are perfect for this They will look great in glamor-style interiors, but they will dazzle indoors modern. Quilting looks great in elegant salons, and the sofas and couches with simple form is well complemented by minimalist rooms and Scandinavian. It is worth remembering that the sofa is an element of a larger one puzzle, so it must be consistent with the rest of the equipment. For bigger you can afford to be crazy when choosing a color – strong trends are a hot trend, often even contrasting colors.
The quality of the material – this point will surely be perfectly understood pet owners. Keeping a sofa clean can be a challenge. Therefore, it is worth betting on fabrics that can be washed by yourself. You also have to check whether the material is abrasion resistant.
The sleeping function – it happens that the sofa or corner sofa must fulfill the function the function of the bed – whether in studios or simply when we need it comfortable space for our guests.
The presence of storage compartments – this issue is indirectly related to the previous - the sleeping function means that we must have space for additional sets sheets, blankets or pillows. Even if we don't use the couch sleeping, lockers are always valuable and, above all, well hidden space for storage.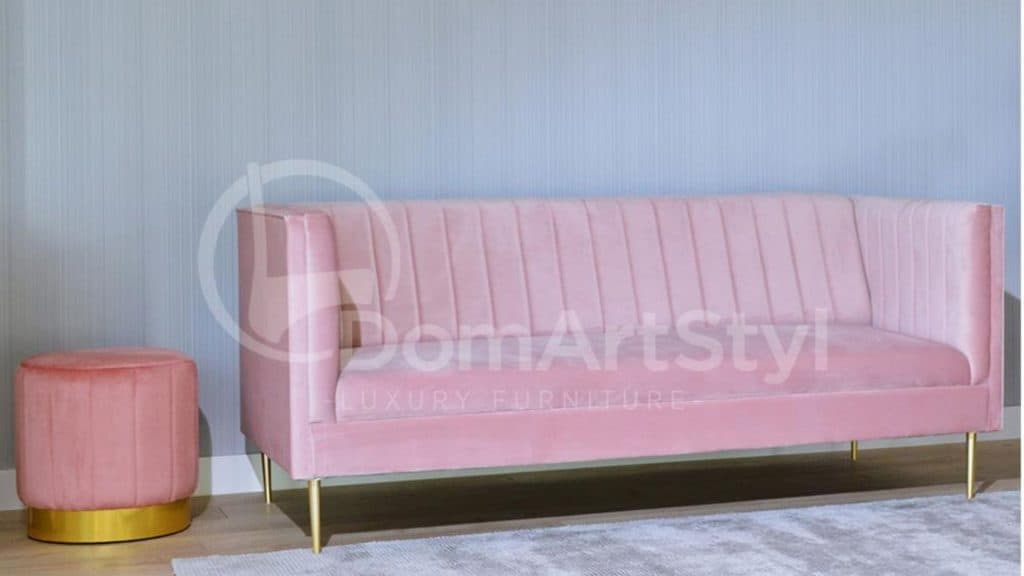 What to choose: a couch upholstered for the living room – sofa or corner sofa?
Upholstered sofa, corner sofa – any of the solutions has its admirers and opponents, so how do you choose well? The decision is yes really dictated by our living conditions.
The sofa is an option recommended above all owners of small rooms or multi-functional rooms. Takes away much less space than a corner, it is neat and adjustable. It definitely has more universal character, but it does not allow it to freely lie down and does not will provide space to all guests. The way out of the situation is to buy a few upholstered furniture, e.g. a sofa set, armchairs and footrests.
Corner sofas work well in spacious rooms. However, they enforce a specific setting and take up a lot of space. Nevertheless, it is worth investing in them, because they deliver exceptional seating comfort. Corners also usually offer ample storage and practical solutions, e.g. adjustable headrests and armrests, or additional ones pillows.
Why is it worth choosing an upholstered sofa?
Upholstered furniture adds coziness to the interior. Materials are associated with home warmth, and are also responsible for ours comfort. Soft and pleasant to the touch fabrics make you relax on your favorite sofa or corner sofa is a long-awaited highlight of the day. On an upholstered sofa is also worth placing because it can be the centerpiece decorative element of our interior. With the character of the room legs, upholstery, textures and decorative elements correspond. They constitute Fr. the style in which the room is arranged – e.g. velor is immediately associated with glamor style, and the floral pattern with the English style. Upholstered furniture is an investment in comfort and originality.